Madeline Liu
Founder of Notebeans Stationery
(visit madelineliu.carrd.co)
—
Hi, its a pleasure to meet you!
I'm an creative entrepreneur, a freelance digital artist, photographer, videographer, social media manager, and brand growth strategist in the works.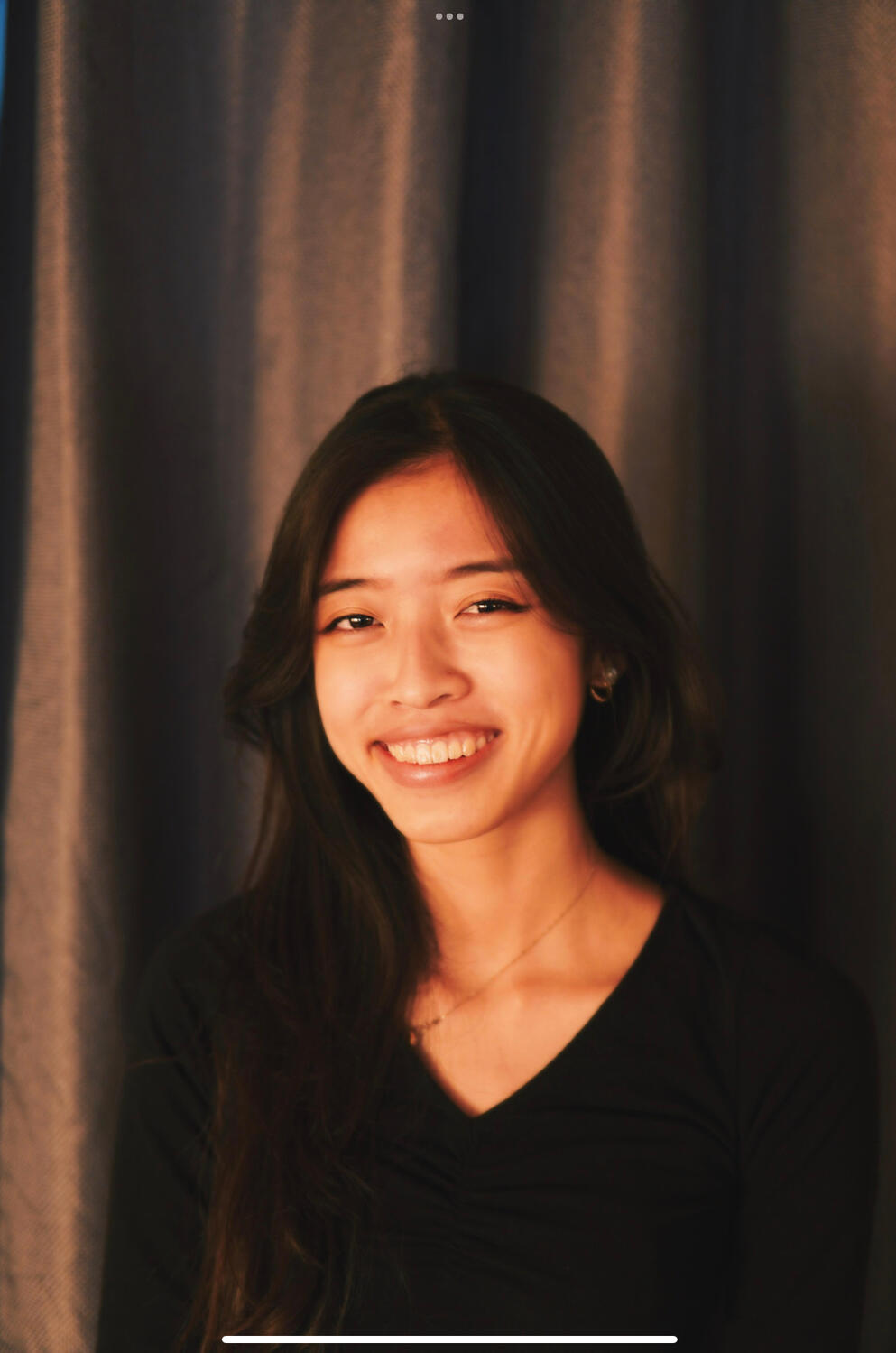 My name is Madeline Liu, and I'm a digital artist, content creator, and the founder of notebeans stationery. I'm currently a student at the University of San Francisco as a double major in Marketing and Entrepreneurship, and am extremely passionate about digital art, creative storytelling through film and photography, as well as third wave coffee.
Feel free to play this song as you scroll:
MY MISSION
To bridge creative culture and humanitarian causes. To be forever curious, introspective, and community driven. To seek to understand others before seeking to be understood. To take action on what's within my control, to let go of things beyond my control, and to have the wisdom to differentiate between the two.
EDUCATION
BA in Business Administration, University of San Francisco
Entrepreneurship & Marketing (double major)Expected Grad: May 2024
SKILLS AND CERTIFICATION
- Coursera x UIUC: Digital Marketing
- Coursera x Grow with Google: Fundamentals of User Experince (UX) Design
- Coursera x Yale: Science of Wellbeing
- Microsoft Excel (Linkedin Certified)
- G Suite
- Canva, Procreate, Figma Design Software
- Lumafusion, Davinci Resolve Video Editing Software
- (Interested to learn) UX Design / Research Specialization, Google Analytics certification, Photoshop, Intermediate Mandarin,
design and social media
Currently, I am the social media manager for the Instagram page of Coffee and Water Lab, a specialty coffee shop in San Jose, CA. Please refer to @Coffeeandwaterlab on Instagram to see my work.I also am the Founder, CEO, Designer, and content creator for Social Media and all curated designs, photography, and reels for my art and stationery venture, Notebeans Stationery. Please refer to @notebeansstationery on Instagram to see my work.Here are some examples of work I've done for both businesses, related to social media content, advertisements, and event preparatory materials.
FILM/PHOTOGRAPHY
projects
Innovative Online Business: EveryTote Tote Bag
What was the challenge?
To build a comprehensive online business that covers the problem, solution, digital marketing strategy, SEO SEM strategy, monetization strategy, ad mock up, and online store HF prototype. This challenge was the core attribute of our business course at the University of San Francisco, Internet Business Applications, taught by professor June Lee. We thank her greatly for the sharing her wisdom with our class and for her feedback throughout each step of the process.
The problem we identified
1. There is a lack of an accessible yet high quality tote bag that lies between the mass produced canvas totes and the premium high end designer bags.
( insert graphic that showcases
2. In the current trendy canvas tote bag, there is a lack of a) compartmentalization to help store and prevent loss of items within the bag b) high quality durable material that prevents stretching c) modular versatility with the bag's design that can help prevent shoulder pain from excessive weight the mere thin straps carry.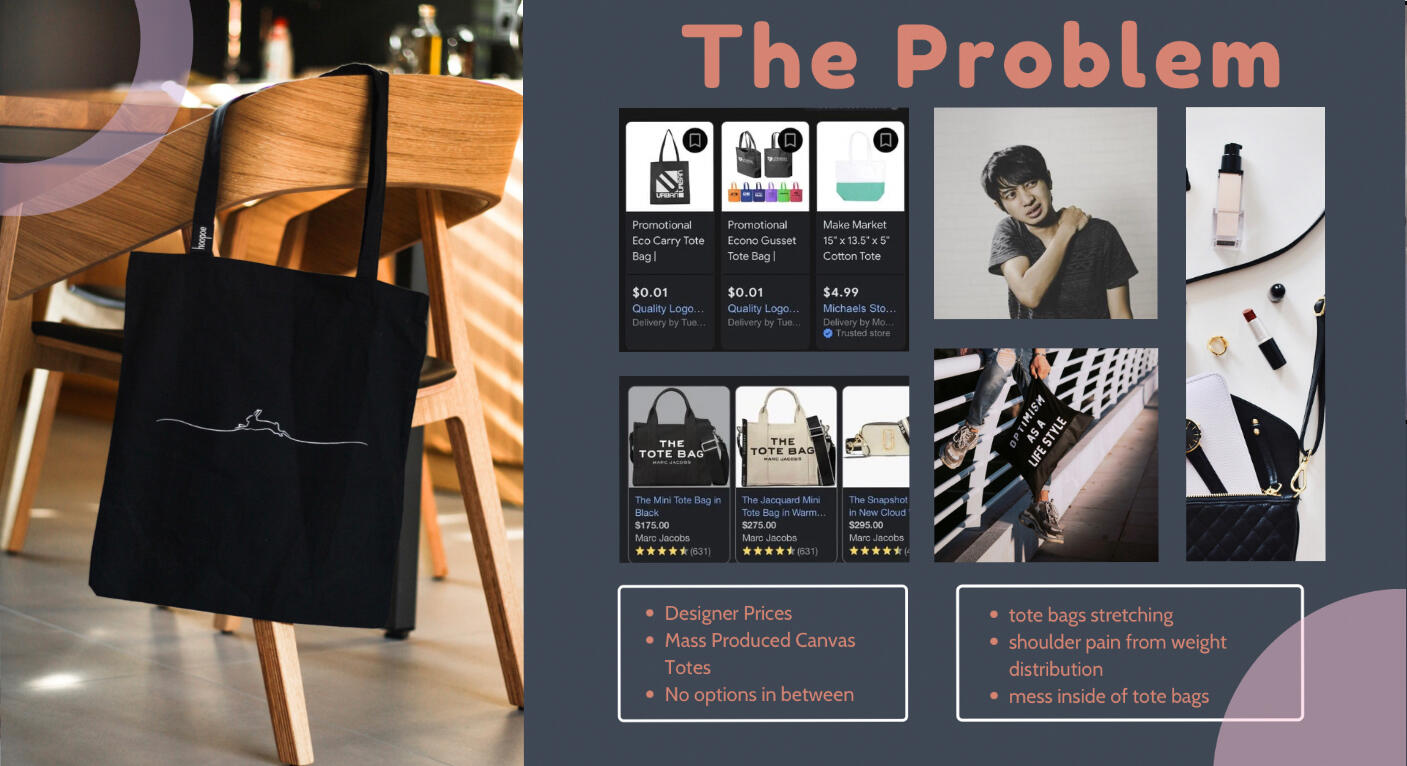 the solution we came up with1. A tote bag that would prioritize people, places, and price points that are accessible to all. This is a tote bag that will be priced within a $20-40 range, will be aimed towards philanthropic initiatives such as working with nonprofits that help communities that could benefit from a long lasting carrying device, and will be modular so that they can be used for any use: school, work, nanny responsibilities, or even an Uber eats delivery person.2. a) To tackle compartmentalization and the frequent loss of items within bags, a tote bag insert that can be swapped out throughout the day for different use cases. b) To tackle durability and quality, the tote bag will be made of high quality materials that incorporate synthetic fibers that are generated from recycled plastics and cotton shirts. c) to tackle lack of modular versatility for weight distribution, a tote bag that has convertible straps between a tote bag and a backpack.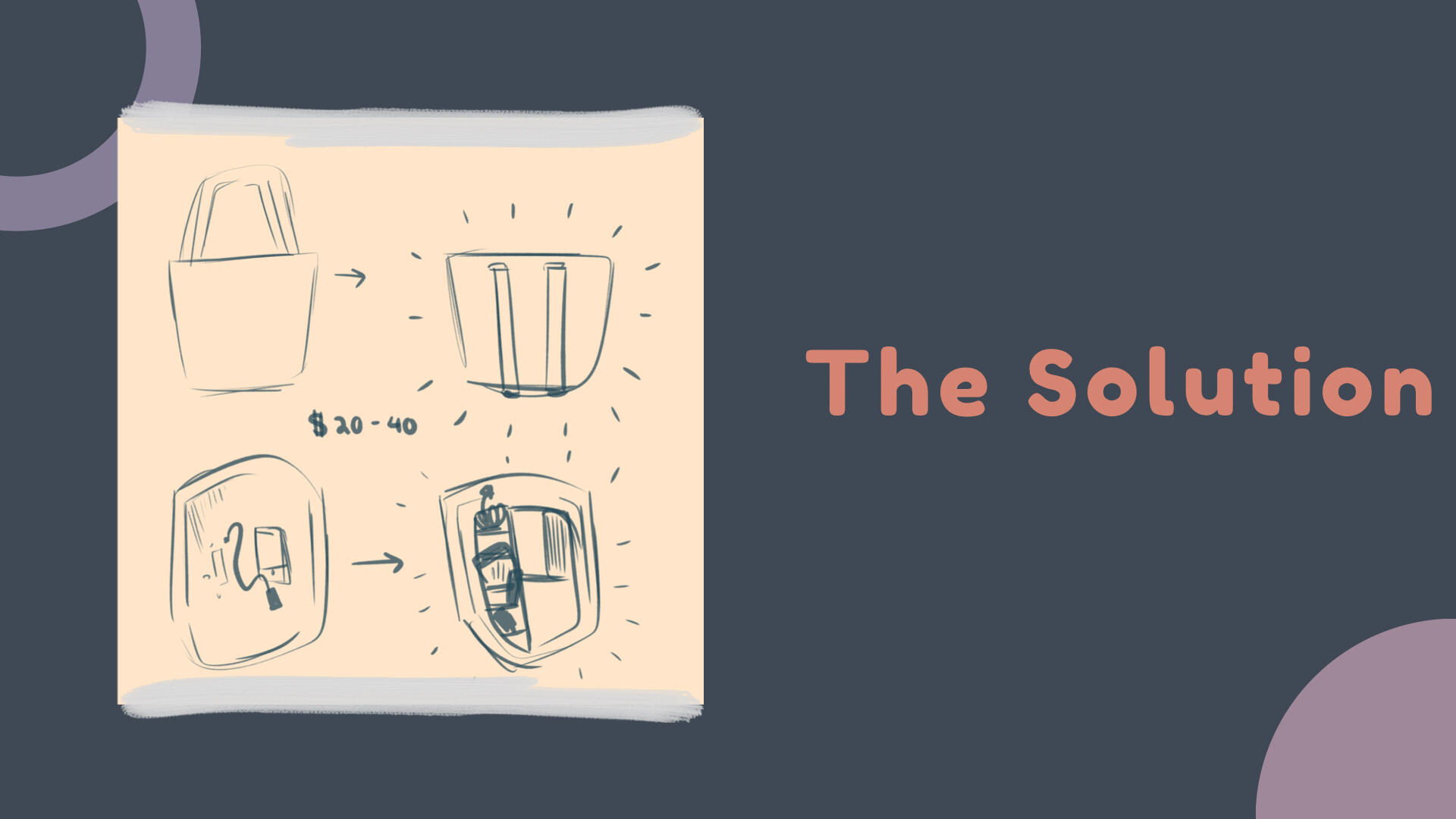 The Timeline of This Project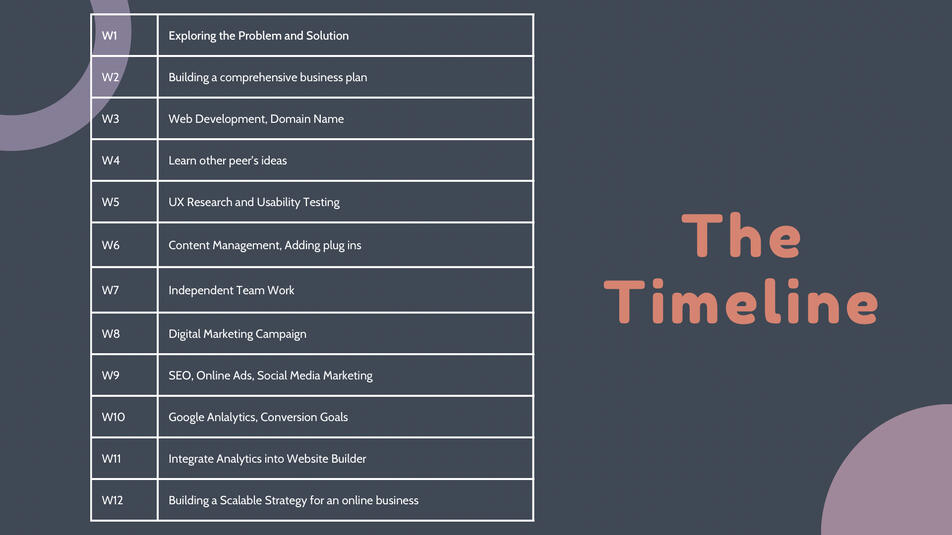 Meet the Founding Team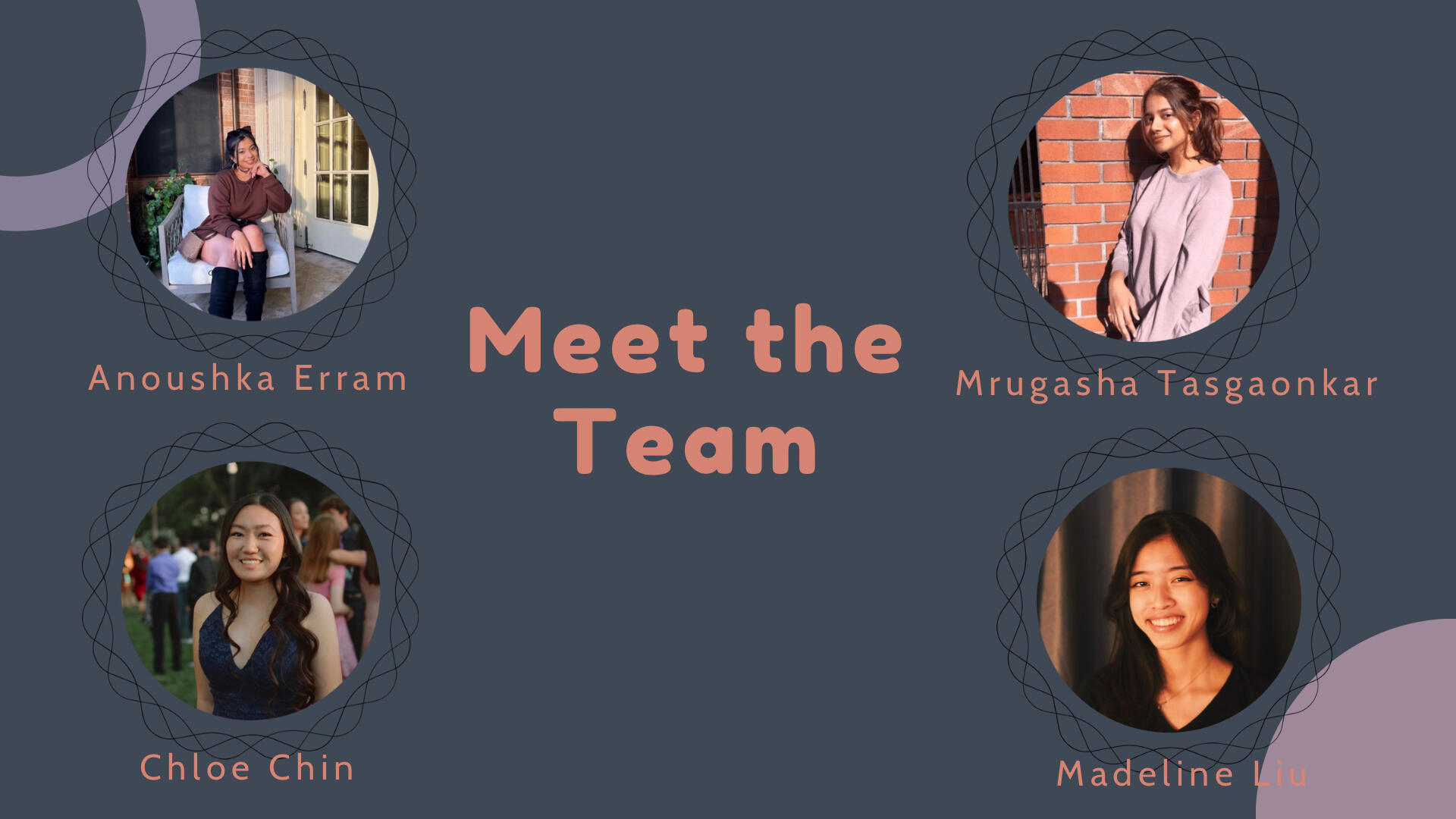 Target Users and Audience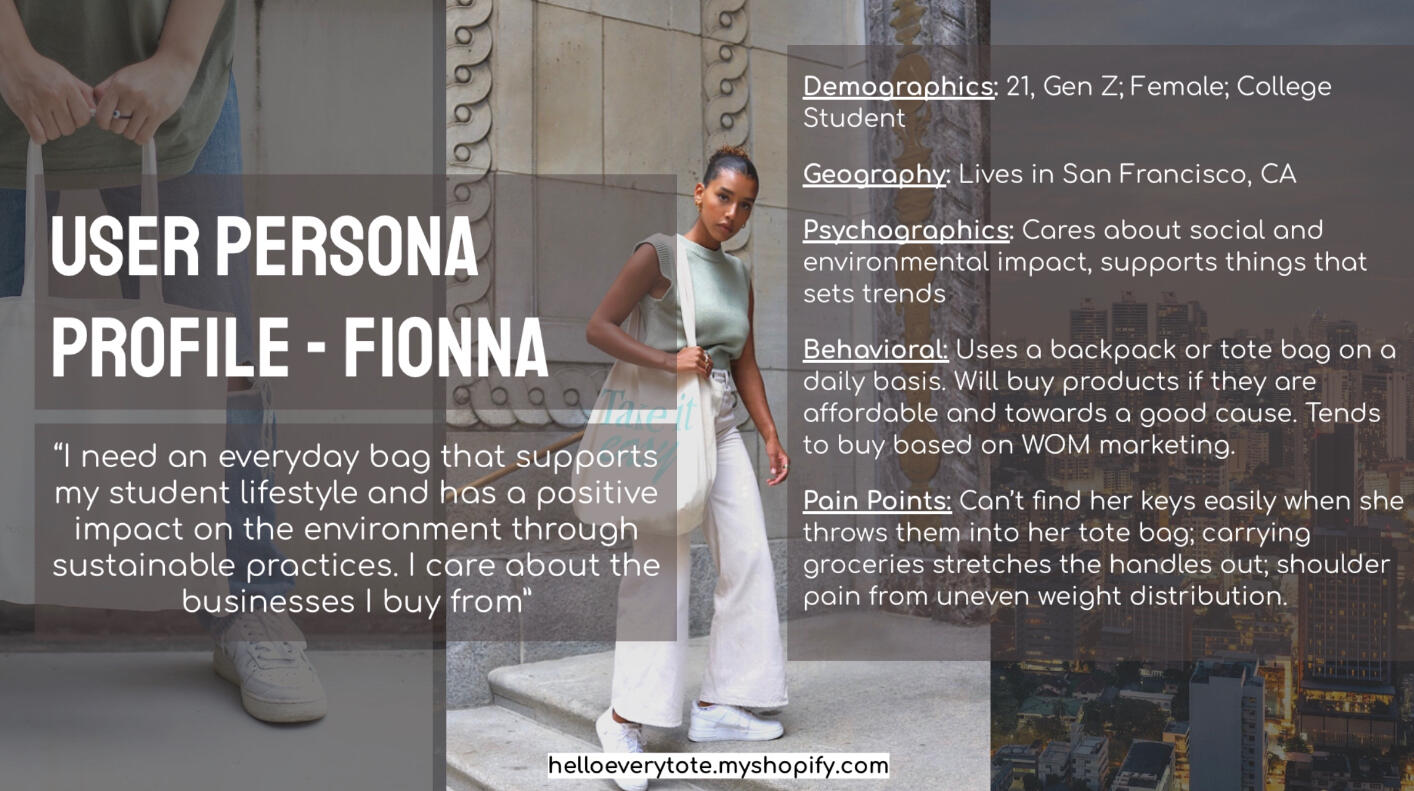 UX Research
1. UX Study 1: Market Research
2. UX Study 2: Usability Testing
Web Development (Demo)
My Area of Focus:
SEO and SEM Strategy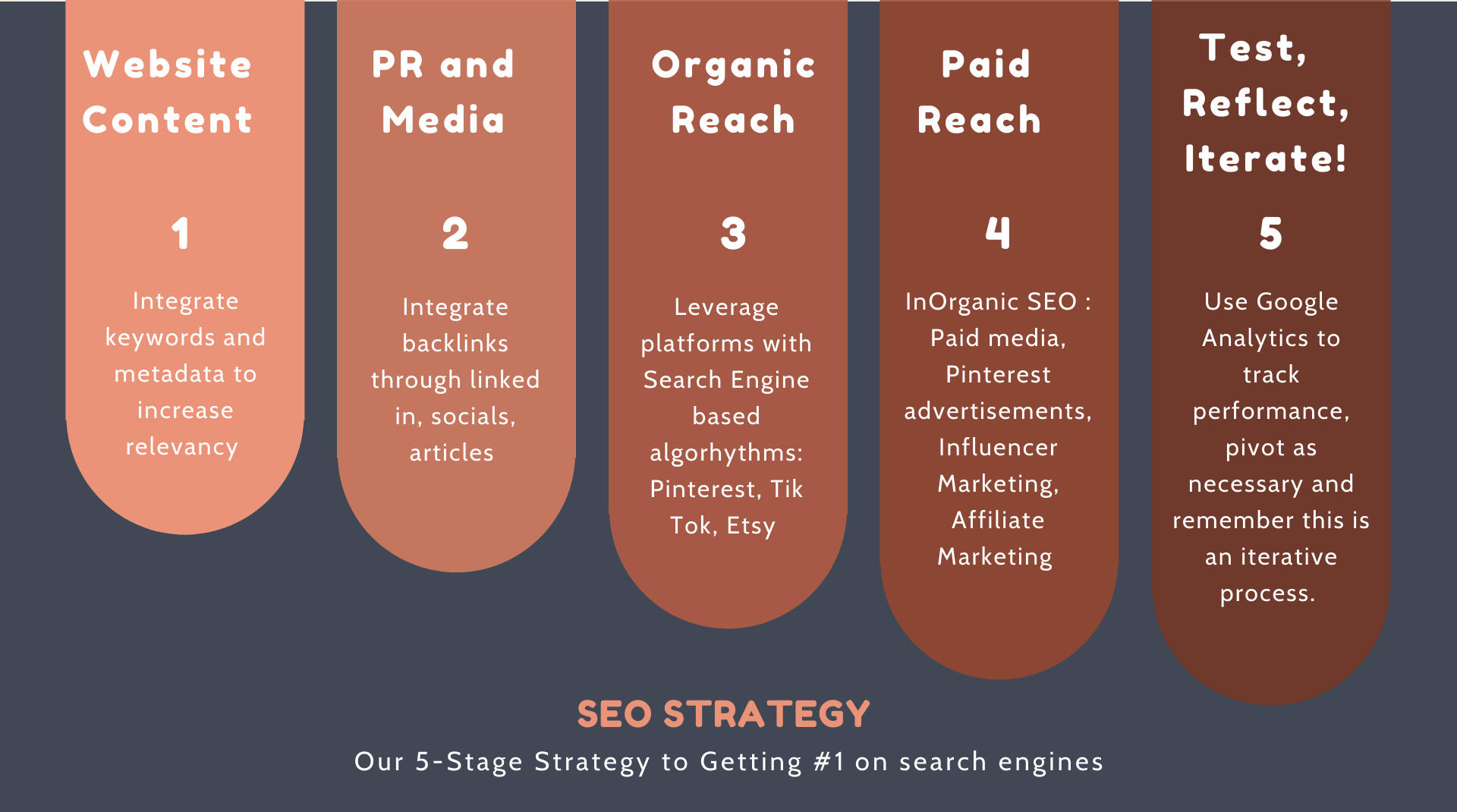 Key Takeaways
- UX Studies and feedback in general is vital for a successful venture.
- Choosing different pricing changes buying power, which changes demographics and overall target audience.
- Iteration is key, and developing a comprehensive problem, solution, and product prototype is key before beginning marketing and platform logistics.
What I Learned
- After this course and semester long project, I felt confident enough to not only develop a thorough problem, solution, and prototype, but also develop a marketing strategy and online business strategy that would bring my venture to scalable success.
- I thoroughly enjoy strategy building and UX design/ design thinking. It's a career avenue I have been exploring and want to depen my credibility and wisdom in.
- Feedback from fellow entrepreneurs who can bring blind spots that were previously unknown into an open area can be extremely beneficial to the venture journey.
Future Implications
- I will continue with my teammate, Chloe Chin, this venture throughout the summer.
- Building a stronger product foundation before marketing tactics.
- Wholesale selling to department stores, outdoor and recreational stores.
- Running a crowdfunded campaign through Kickstarter or Indiegogo to generate funds for manufacturing the products and build a community surrounding functional, high quality, and aesthetic tote bags.
- integrating lessons from this course and long term project into my own entrepreneurial endeavor, Notebeans Stationery.
SPECIALTY COFFEE
More content coming soon…
Notebeans Stationery
see my core business and many applications of my social media marketing, brand strategy, philanthropic strategy, content creation, digital designing and illustrating, photography, and videography in my passion project, Notebeans Stationery.
Throughout the course of 2020's quarantine, I found myself easily spending on commodities that simply didn't have meaningful value to me. Along with this, I had been furthering my research on social entrepreneurship and what was essential to having decent corporate social responsibility. Here is the story of how Notebeans Stationery came to life.
So what ignited this project? Around the time of the California wildfires, I had an insight that I couldn't simply sit around when other people were fighting for their lives, evacuating their homes, and facing adversities that I was blessed enough to not be. I'm not sure why, but I felt the urge to do something. Thus, the concept of Notebeans Stationery came to fruition.
I made the bold decision to combine both my love for stationery, design and art along with my passion for social entrepreneurship. From that moment on, Notebeans Stationery would set out to be a small business with strong corporate social responsibility, aiming to make a difference through stickers, prints, calendars, and more to come.
Thank you for reading!
Madeline Liu
Notebeans Stationery Founder,
forever a curious creative.